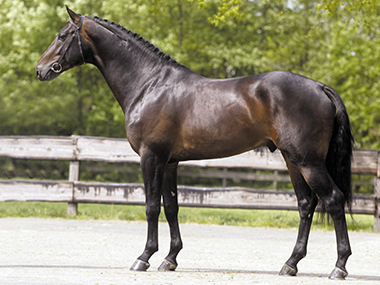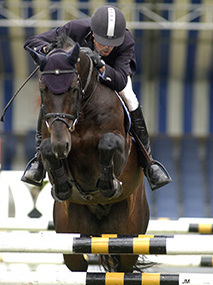 Solitair
VOLTAIRE x LIBERO H x ULSTER x ABGAR XX
KWPN 99.01461, 1,71m, bay, 1999
Breeder: H. Pasterkamp, Den Ham & B.Winters, Ommen
Solitair is a jumping talent with super movements and very appealing conformation. At his performance test in Ermelo he received an 8.5 for his canter and for walk, trot and talent, three 8.0's. His sire Voltaire (s. Furioso II) jumped internationally at the highest level with Jos Lansink and Emile Hendrix. In addition, Voltaire, who has more than thirty registered off spring in the Breeding Guide for international showjumping horses, belongs among the best stallions in the world.
Solitair was bred out of Nigrante, a beautiful daughter of the legendary Holsteiner stallion Libero H. This mare not only received high recommendations by the KWPN approval committee but has also produced the International show jumper Triviant (David Quigley). Solitair's dam line carries a large amount of blood through the influential stallions Abgar xx and Pericles xx. This lineage also produced several licensed stallions as well as the Grand Prix jumper Figaro (Leslie Steele).

SOLITAIR: THE ALL-ROUNDER, COMBINING THE MOST INFLUENTIAL DUTCH STALLIONS!