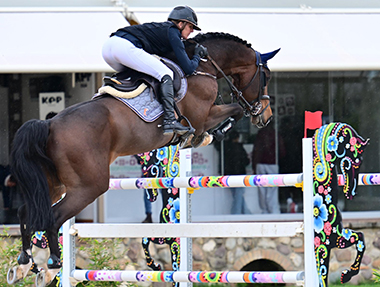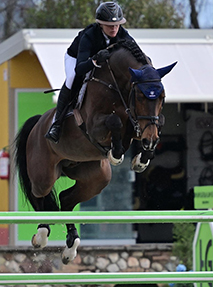 Corlou
CORNET OBOLENKSY x BALOUBET DU ROUET x CHACCO BLUE
OLDENBURG DE418180025815, 1.74m, bay, 2015
Breeder: Gestüt Lewitz, Neustadt-Glewe
Rarely have we been able to offer you such a complete stallion. Not only does this stallion have all the desired jumping qualities, his model and pedigree are also exceptional.
The beautifully typed Corlou, large framed and a close to perfect stallion model, has a fantastic pedigree with Cornet Obolensky, Baloubet du Rouet, Chacco-Blue, Cento and Argentinus bloodlines. In this dam line we find many Grand Prix showjumpers and approved stallions.
Corlou was in many aspects the highlight of last years "the Collection" auction. After a tough bidding duel it was a Dutch investor who was victorious, resulting the stallion being retained for the Netherlands.
Grand dam Chacentia jumped at 1.40m level herself and full brother Mick Jagger jumps at 1.60m GP level with Santiago Lambre. Great-grandmother and grand prix winner Centina (Cento x Argentinus x Sudan xx) jumped at 1.60m level with Bruce Goodin. The line continues with Argentina. This mare also jumped at 1.60m GP level and in addition to the aforementioned grand prix mare Centina, she produced 5! More international showjumpers including the 1.60m horses Simba (Beat Mandli) and Chatinus (Richard Spooner).
CORLOU EXCEPTIONAL JUMPING STALLION WITH A STUNNING PEDIGREE!