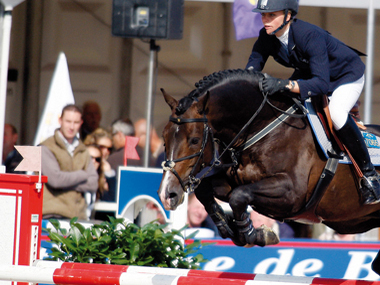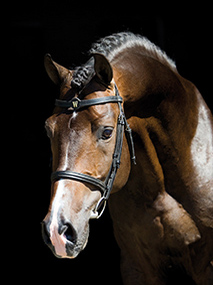 Ustinov
LIBERO H x NIMMERDOR x MARCO POLO x POLARIS
KWPN 01.10827, 1.67m, bay, 2001
Breeder: G. van der Veen, Ommeren
Ustinov's great exterior and jumping qualities are deeply anchored in his pedigree. His sire is the showjumping horse producer Libero H, a legend in his lifetime. Together with Jos Lansink this son of Landgraf I won a respectable series of World Cup competitions and Grand Prix, the highlight being his fantastic victory of the 's-Hertogenbosch World Cup finals in 1994. His fighting spirit in combination with his jumping skills and incredible reflexes made the stallion almost unbeatable that season.
With German rider Caroline Müller in the tack, Ustinov competed successfully at international shows such as Moorsele (B), Münster (GER), Verden (GER) and Neustadt Dosse (GER).
Full sister Maifa is dam to many good showjumpers including the 1.60m GP successful horses Zilverstar and the great Calimero (winner of the GCL Finals Prague 2018 with Marc Houtzager).
His first years of breeding have resulted in a great number of successful international 1.60m showjumping horses such as Ridley, Daylight, Ewinita, Dustin, Penelope Cruz, RF Southern Command and Vivre Le Reve. Due to these great results at international shows, his strong Dam line, his ranking in the KWPN jumping index and the incredible amount of predicate mares (83%) Ustinov was awarded with the keur predicate!
USTINOV: KWPN 2004 STALLION CHAMPION!