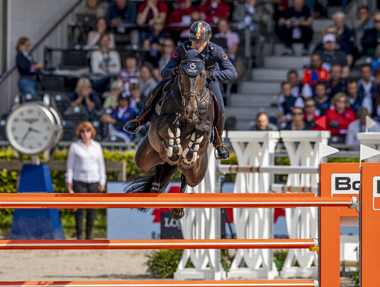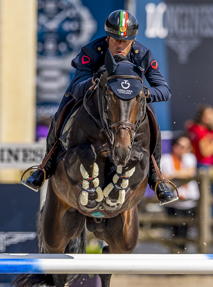 Tokyo du Soleil
MONTENDER x PAPILLON ROUGE x URIEL
SF 25000107711031T, 1.71m, bay, 2007
Breeder: Marianne Eichenberger, Cossaye
This blood-type, modern son of showjumping stallion Montender has a mother line that goes back to the best French stallions and showjumping producers available, and adds something unique to our existing stallion roster, that is mainly based on Holsteiner bloodlines. Through Montender, the well-known son of Contender, who for years was an important part of the German national championship team, this dam line continues with the legendary stallions Papillon Rouge and Uriel. Founding father Orange Peel xx is found several times further back in the pedigree.
This dam line is characterized by its great number of international successful showjumping horses. Out of the direct motherline no less than eight horses are active at international level from 1.45m - 1.60m.
With his Italian rider Luca Marziani, Tokyo du Soleil became a pillar of the Italian national showjumping team. The highlights so far have been the victory in the CSI 5* FEI Nations Cup in Sankt Gallen, many good results in GCT competitions and in Nations Cups as well as a successful participation at the European Championships in Rotterdam 2019.
Aiming for the Olympic Games this year, Tokyo du Soleil has been sold to the Japanese rider Mike Kawai and will be available with frozen semen in 2020.
TOKYO DU SOLEIL: MODERN SHOWJUMPING STALLION OUT OF FAMOUS FRENCH DAM LINE!