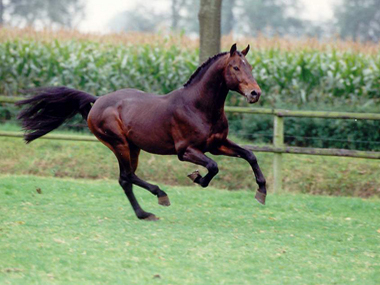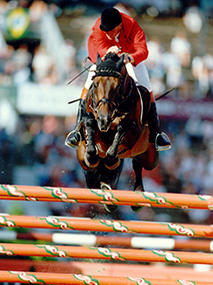 Libero H Pref.
LANDGRAF I x RONALD x KOMET
Holstein 21.01116.81 (KWPN 81.8330), 1.66m, bay, 1981
Breeder: M. Roepcke, Utersen (Dld)
The Holsteiner stallion Libero H (Landgraf I) is one of the most influential stallions of the last decennia both in sport and in breeding. With Jos Lansink, Libero H won a very impressive series of World Cup competitions and Grand Prix, highlight being the victory in the 1994 World Cup finals at 's-Hertogenbosch. His fighter's mentality combined with his technique and incomparable reflexes made this stallion almost impossible to beat that season. In 1989, Libero H was also approved by the KWPN. With less than 600 offspring the number of international showjumping horses by him is truly remarkable.
From all his children competing in the sport over 25% is jumping at international levels. For this, Libero H was awarded the 'PREFERENT' predicate this year, the highest award a stallion can receive.
Libero H has been represented in international showjumping by successful jumping horses such as Castle Forbes Libertina (mv. Polydor, Jessica Kürten), Lolita H (mv. Grannus, Toni Hassmann), Castle Forbes Maike (mv. Lucky Boy xx, Jessica Kürten) and No Mercy (mv. Dillenburg, Christina Liebherr). Both Maike and No Mercy were successfully competing at the 2004 Olympic Games in Athens. At the 2004 KWPN stallion selection the stallion Ustinov (v. Libero H) was awarded for his outstanding showjumping qualities by receiving the title KWPN Stallion Champion 2004.

LIBERO H: SIMPLY THE BEST