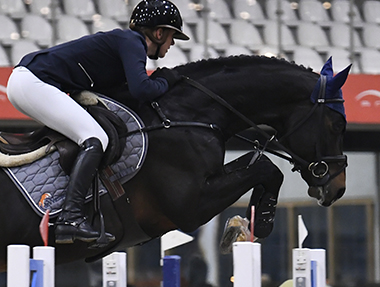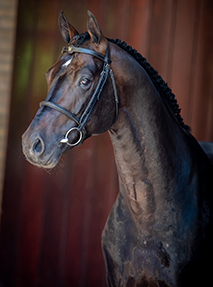 Donthargos
DON DIARADO x CONTHARGOS x LORDANOS
OLDENBURG DE418180321417, 1.70m, bay, 2017
Breeder: Marion Diese, Fresenburg
Donthargos can best be described as thé free jumping sensation at the recent Oldenburger stallion approvals. During the honors of the premium stallions Donthargos was praised for his rapid reflexes and athletic scope.
Father Don Diarado won the bronze team medal at the 2018 world championships in Tyron. Also today this stallion acts at the top level in showjumping with his rider Maurice Tebbel and has recently been added to the short list of the German championship team for this year's Olympic Games in Tokyo.
On the dam side we find the mare Carla, a daughter of the emerging horseproducer Conthargos (Converter x Carthago). She is also the dam of the 2018 Oldenburger stallion champion; Don Tyron, also a son of Don Diarado.
Grandmother is the Lordanus mare Heika and from there the line goes back to the mare Heideland (Landadel x Grannus x Furioso II) who produced many international showjumpers such as the 1.50m approved stallion Cyber Boy and the 1.55m showjumper Commander 21.The Roots of this dam line go back to the well-known Oldenburger Stamm 107 / Heida, who can already list a stunning 21 approved stallions among them Cador, Cesaro, Diamant de Plaisir, Lambrusco ASK, Landor S and Lagoheider G. In addition this line also produced many successful 1.60m Grand Prix horses among them Lady Lordana (Hendrik Sosath) and Lobster 43 (Soren Petersen).
DONTHARGOS: THE BEST OLDENBURGER JUMPING GENETICS COMBINED!