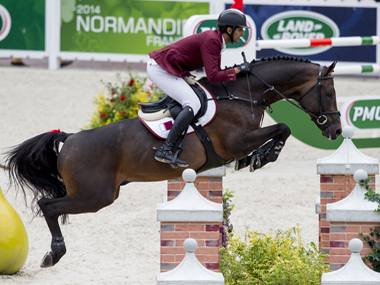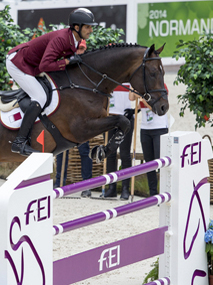 Whitaker
CLINTON x INDOCTRO x ADMIRAAL Z x WENDEKREIS
KWPN 03.01648, 1.70m, darkbay, 2003
Breeder: Stoeterij Aldenbergh, Zeeland
The dark bay Stallion Whitaker is the first son of Clinton to be approved by the KWPN. Clinton is a son of Corrado I and achieved great successes with the Belgium rider Dirk Demeersman. Highlights in his show jumping career were a 4th individual rank at the 2004 Athens Olympics and a 2nd place in the 2005 Aachen Grand-Prix.
The mother of Whitaker is a daughter of the well known preferent stallion Indoctro. She is also mother to the mare Umatilla (s. Lupicor) who won the 2007 Hippiade Championships in Holland. Via the stallion Admiraal Z the motherline continues with the beautiful mare Filly (s. Wendekreis) who has been honoured twice as the winner of the Belgium National mare championships. In addition we find a well known English thoroughbred family going all the way back to the 17th century.
The beautiful Whitaker, jumping champion of the 2006 KWPN ability test, was praised because of his positive attitude and good character. Besides that the expressive son of Clinton received recognition for his tremendous jumping abilities. Technique and general jumping manners were rewarded with 8.0, scope and canter were awarded with 8.5 points,
WHITAKER: A UNIQUE COMBINATION OF TOP SIRES!