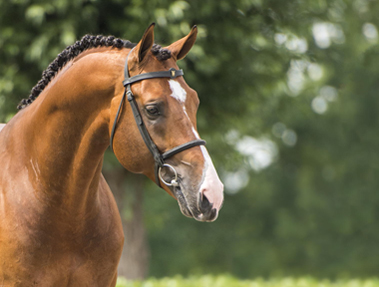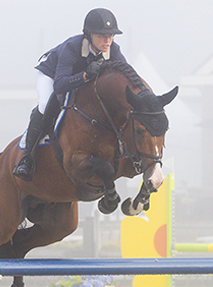 Hanley
TORNESCH x CORNET OBOLENSKY x RAMIRO x VOLTAIRE
KWPN 12.04250, 1.69 m, bay, 2012
Breeder: M.C G. van den Oetelaar, De Moer
The bloodtyped, well modeled and very appealing stallion Hanley is the first KWPN approved son of the international showjumping stallion Tornesch. Tornesch has been a driving force behind the Swedish national equestrian team, with his rider Malin Baryard Johnsson.
On the dam side we find the elite- and champion mare Charisma, a daughter to the world class horse producer Cornet Obolensky. Charisma was regional champion of Noord Brabant and national vice champion in the Netherlands. Grandmother Lomein is an "elite preferent" daughter to the well-known Ramiro Z, father to the famous Ratina Z. The dam line continues with Domein, a "keur preferent prestatie" mare by the influential stallion Voltaire.
The stallion ability test report speaks very positively on Hanley's great exterior characteristics. His big stride and powerful canter is light and shows a lot of easiness. Hanley jumps with good reflexes and his take off is very expressive. Hanley has a great jumping technique and gives his rider a great feeling. Hanley became the reserve champion of his age group at the 2017 KWPN stallion competition finals.
HANLEY: EXPRESSION COMBINED WITH UNIQUE GENETICS!