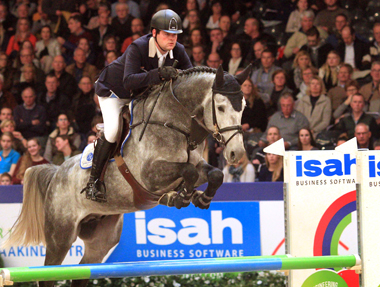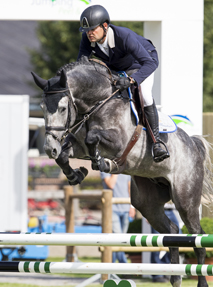 Grodino
ELDORADO vd ZESHOEK x CELANO x CONCORDE
KWPN 95.3822, 1.69 m, grey, 2011
Breeder: J. van Loon, Valkenswaard
Grodino is the first KWPN approved stallion of the international showjumping stallion Eldorado vd Zeshoek. His dam is a daughter of the well-known horseproducer Celano. Grand dam is the mare Morina, a daughter of the awarded Concorde out of amare by the English Thorough blood stallion Mytens xx. At the base of this dam line we find Korina, a daughter of Gondolier and mother to the famous showjumper Dorina (s.Transvaal) who was successful with German rider Franke Sloothaak. Also Othello, one of the best puissance horses at that time is a direct descendant of Korina.
During his performance test Grodino displayed his jumping skills and was awarded with high grades for jumping technique, scope and overall ability. The report mentions; "A powerful and balanced canter, good and fast jumping reflexes and both agood front and hind end jumping technique. As a showjumper Grodino shows lots of ability and provides his rider a good feeling".
GRODINO: BELGIUM'S AND DUTCH SUCCESFUL DAM LINES COMBINED!