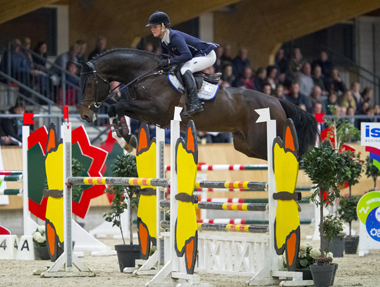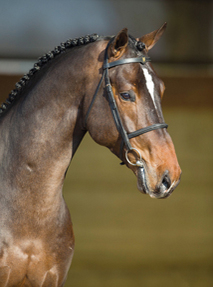 Great Blue
PLOT BLUE x LIBERO H x CONCORDE
KWPN 11.06522, 1.72m, bay, 2011
Breeder: G. Kouwen, Dalfsen
The interestingly bred Great Blue has been approved by the KWPN studbook in the spring of 2014. The bloodtyped darkbay stallion is the first approved stallion by the legendary jumping stallion Plot Blue who has been extremely successful during the past years with German rider Marcus Ehning.
On the dam side we find the "ster preferent" mare Nibero, a daughter of another showjumping legend; Libero H. Via KWPN stallions Concorde and Zevenaar the dam line goes back to Zaline, a mare by Farn. Also here we see the successful combination of Libero H and Farn, who both have the important mare Dorette in their pedigrees.
During his KWPN performance test Great Blue was praised for his jumping technique, huge scope and powerful canter. Besides that the stallion received compliments for his rideability and willingness to work.
In 2015 Great Blue presented his first offspring. The KWPN foal report speaks of a homogenous group of well built foals, who all show a powerful lightfooted canter. With Caroline Müller in the saddle Great Blue has already been successful in international showjumping classes and has a promising future ahead.
GREAT BLUE: THE FIRST KWPN APPROVED SON BY THE LEGENDARY PLOT BLUE!
Stallion Competition 2016 / 2017 Ermelo GREAT BLUE
Stallion Competition 2016 / 2017 Ermelo GREAT BLUE jump off