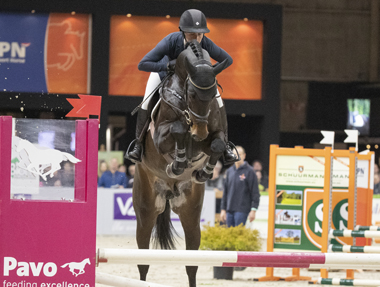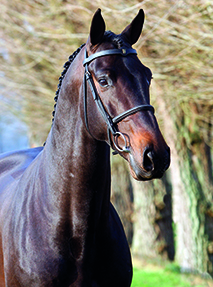 Lingo van de Watermolen
CONNECT x CARAMBOLE x VOLTAIRE
KWPN 16.00407, 1.70m, bay, 2016
Breeder: J.W. Greve, Haaksbergen
Lingo van de Watermolen can be mentioned as one of the most appealing stallions of his class. A very complete stallion who combines rideability, a beautiful type with an enormous scope.
With his successful offspring, Connect as a sire seems to fulfil all the genetic expectations. Besides two KWPN approved stallions he also sires the NRPS stallion champion (Chatman, sm. Indoctro) and the reserve champion of the VSN Showjumping Trophy (Lamaze HW, sm. Catoki).
On the dam side we find the beautifully modelled mare Happy Wiggy, daughter to the 1.60m Grand Prix showjumping stallion Carambole. Here the already outstanding Holsteiner genes of Connect are combined with the widely acclaimed blood of Cassini I and Concerto II. Further along the dam line we find Voltaire, another excellent Showjumping producer. Third mother Pekezwiggy (s. Karandasj), is also mother to the KWPN stallion Watermill Famous and the international eventing horse Berryhouse.
The KWPN performance test report speaks of an uncomplicated stallion with a great character and willingness to work. Both his trot and his canter are light-footed and balanced. Lingo van de Watermolen has a superb front-and hind technique, shows great reflexes, is careful and has a lot of athletic scope. As a showjumper Lingo van de Watermolen has all the ability to become an excellent showjumper and provides his rider a very good feeling.
LINGO VAN DE WATERMOLEN: VERMOGEN, TYPE EN BEWEGING INÉÉN!